Welcome to my review of the best spats for BJJ and MMA!
Spats have now become the preferred training apparel for BJJ and also in MMA. If you are looking for spats to use in your training, then this content is what you're looking for!
In this review, I have prepared a list of some of the brands that offer the best spats in the current market.
I also reviewed other boxing, MMA, and Muay Thai brands in the past. You may check them out if you like—Best Boxing Gloves for Training, Best MMA Gloves for Women, Women Muay Thai Gear, Best Boxing Gloves on Amazon, and Best MMA Bags, just to name a few.
The Importance Of Spats During Workouts
BJJ or MMA spats are basically just spandex leggings-like pants designed for training. However, these spats are more than just a fashion statement. There are several benefits and reasons why you should wear spats during your workout.
Probably the most obvious reason is that it prevents mat burns. Since the BJJ and MMA involve combat on the ground, wearing spats prevents injuries like burns that may be caused by the friction on the mat.
BJJ and MMA spats provide comfortability and mobility. The compression of the spats provides a full range of motion, which aids better movement and execution of your technique. The spats also help keep your legs warm, improving your blood circulation and keep the muscles warm during training, avoiding strain and fatigue.
Buyer's Guide
In my opinion, there are factors and criteria that buyers should primarily look for when buying BJJ and MMA compression spats. These are the following:
Flexibility
Each person has a unique body construction. Leg size proportion, for example, is one of the common basis for finding the right fits for you. You have to make sure that the spats are stretchable enough and fit your contours comfortably.
Overlooking this important factor may limit your mobility and comfort level. It may also cause you skin injuries such as rashes if you force yourselves into too tight spats.
Materials Used
As you may have noticed, the items listed here are mostly made with a combination of spandex and polyester. The reason for such is that this combination provides the best level of stretch and durability.
These kinds of materials enable the spats to not shrink and wrinkle. Other choices that you may have are spats that are made of 100% Lycra or spandex. Like the spandex-polyester connection, it is very stretchable and absorbs sweat quickly.
The downside of this material, however, is it may have breathability issues, especially in a very humid environment. And although such fabric is known to absorb sweat, it may have problems if sweat accumulates rapidly as well.
Aesthetic
The overall design of the compression spats is just a matter of personal preference. There are people who prefer the simplistic design, while there are also others who like to rock with cool features.
"Look Good, Feel Good" as the saying goes. As long as you are confident and feel good with what spat you are wearing, then it won't be a problem.
Stitching
Apparently, stitching is an important factor to look for also. This is because no matter how durable the fabric of the spats is, they may break away easily if they are not properly constructed or stitched together.
For you to ensure the stitchings are crafted properly, it is recommended to stick with reputable brands like the ones listed in this review.
What Are The Best Spats For BJJ And MMA?
Hayabusa is a widely-recognized manufacturer of gears and apparel that caters to the needs of combat sports like MMA, BJJ, and Boxing, just to a name few. The products that Hayabusa manufactures prove to be one of the bests in the market.
The Hayabusa Geo Compression Spats are made of quality materials that include 16% spandex and 84%. The silicone waistband feature of this spat comfortably conforms to your body and waist shape well.

What it does is it helps regulate body heat but keeps you dry during the duration of the workout sessions. Also, the materials used in the spats reduce friction that is caused by the mat or canvass and as a result, it protects your skin from burns that could lead to potential injuries.
Another notable feature is that it is very durable and well-stitched. You can confidently wear them regularly and for long hours without worrying about any breakage. Overall the Hayabusa Geo Compression Spats are a great investment that can boost your training performance.
The Gold BJJ Jiu-Jitsu Spats are also very affordable. But as cheap as they may be, you can be assured of their quality. Also, this pair has a positive overall rating on Amazon and gained lots of positive feedback.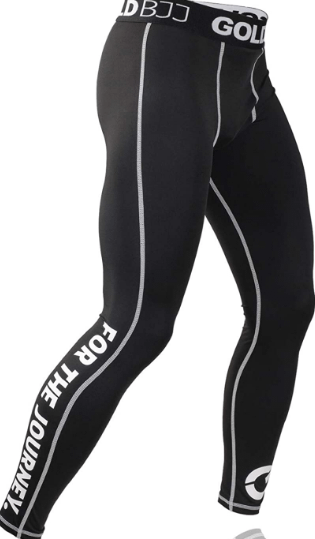 And they are top-rated for a good reason. Some of the comments of those who have used their spats state that they are very comfortable to wear and perfectly fit the contour of their body.
They also have an outstanding item warranty if, for some reason, you're not satisfied with them. But I believe that won't be the case with this pair of compression spats because they are that perfect.
Overall, the Gold BJJ Jiu-Jitsu is ideal for individuals who want quality yet affordable spats.
Venum is also a well-known company that manufactures quality combat fighting gears like MMA, BJJ, boxing, Muay Thai, etc.
This brand is one of my personal favorites, and aside from quality, one thing that stands out for me is the overall aesthetics of their gears. It's stylish and is definitely an eye-catcher.
If you're looking for style and quality, then the Venum Gladiator 3.0 spats are probably the ones you're looking for. This spat is very durable and comfortable that it feels like it's a second skin as soon as you wear them. This feature is especially important to improve your mobility as you train.
Its compression technology is also outstanding that keeps your leg muscles compressed. It is beneficial because it keeps your legs sufficiently warm and boosts muscle recovery during long hours of training.
With all these features, some might find the spats a little too flashy. If this is the case, then there are other items you can choose from below.
If you're looking for spats that are minimalistic yet stylish, then the Sanabul Core Compressions is the perfect one for you. Aside from the aesthetic of this apparel, rest assured that you are getting your money's worth, in case you choose them as your workout partner.
Thanks to its spandex, nylon, and polyester materials, the compression spats are very durable that could endure long periods and intensive training.
In my opinion, what sets them apart from the other items listed in this review is their outstanding SPF 50 UV protection. Such a feature makes the spats useful for outdoor training as well.
Another plus of the Sanabul Core Compression Spats is that it is very affordable. This makes them perfect for people looking for quality yet affordable apparel.
The TSLA Compression Pants is another great pair that can definitely help you during your workout by providing excellent comfort.
Like the others, it is also made of quality materials that include spandex and polyester. This particular combination increases your range of motion, resulting in better movement as you carry out your training.
They are also an ideal compression spat, especially during winter. Thanks to its fleece lining, it provides warmth that aids better performance even in cold environments.
Another plus feature of the TSLA Compression Pants is that it has a two-way circulation feature. Although they are made of spandex and polyester, such a feature makes them decently breathable and adds to their comfort factor.
Overall, this pair is a great buy and perfect not only for indoor training but also for other outdoor activities.
Final Thoughts
I hope the review of the best spats for BJJ and MMA has provided you with sufficient information in determining which brand you'll use in your training.
The buyer's guide may somehow help you in your future purchases as well. The items listed in this review are among the top and highest-rated compression spats around.
Whatever brand you choose, I believe that you can never go wrong with any of them. And it would be just a matter of personal preference in your selection process.
Well, I guess that's just about it! Thank you for taking time off and reading my review of the best spats for BJJ and MMA.