Welcome to my review of the best grappling dummies for BJJ and MMA!
Do you want to learn basic BJJ and MMA moves but can't because you do not have a training partner to do it with? Don't worry, that's what grappling dummies are for!
If you're looking for the top grappling dummy brands you can use for your training, then this content is just for you! In this review, I have listed some of the brands you can choose from. Plus, I also prepared a buyer's guide to help you with your future purchases.
What Is A Grappling Dummy?
The primary purpose of grappling dummies is to help you improve your skills without the need for a sparring partner. Having this type of equipment gives you the advantage of training essentially anywhere, school, at the comfort of your home, or even in your work if it's possible.
Having this equipment will be a huge help in training since grappling and ground attacks are a basic foundation in MMA and Brazilian Jiu-Jitsu. Also, grappling dummies are helpful in practicing takedowns, and can also build your explosive strength.
Although they may not provide the same advantage as those with actual sparring sessions, it could still help you improve your skills nonetheless. Doing drills like basic guard passing, submissions, and ground and pound will get you ready for sure.
I also reviewed other combat sports gear, apparel, and other essential equipment in the past. You can check them out if you like—Best Boxing Gloves for Training, Best Boxing Gloves on Amazon, Best Shin Guards, and Best Girls' Wrestling Headgear, just to name a few.
For a complete list of my review, you can check them out here.
Buyer's Guide
There are several basic factors to look for when choosing which grappling dummy to use. Since grappling dummies will be subject to wear and tear, being wise in choosing is a big investment. Some of the factors above will relatively base on your personal preference or needs. Now, let's explain each of them:
Unfilled Or Filled
Some sellers would allow you to choose whether to ship the grappling dummies filled or unfilled. This factor is pretty much personal preference, with both sides having their advantages and disadvantages.
An advantage of having them filled is that you no longer have to think of the materials or fillers you're going to place inside the grappling dummy. On the other hand, an unfilled package is less expensive.
Size and Weight
As for the size, it is preferable to select the one that's approximate to your height. This is because if you are training for matches, of course, you will fight anyone in your weight division. It would be beneficial if you will have a grasp and feel of how the grappling exchanges will go.
Same as the size, the weight should also be close to yours as well. Not the same weight, though. This is because the dummies are dead weight, which means that it would be very hard to move them around if it's the same weight as yours.
Flexibility
Perhaps the most crucial quality to look for in a grappling dummy is flexibility. Your dummy should be adaptable enough to let you lock it into any situations that a human may reasonably be placed in. Once the submission has been done, it should be able to move back to its original place.
If the dummy is excessively stiff, then you will have trouble getting it into realistic locks and submissions. Conversely, if the dummy is very flexible, you won't experience much resistance.
Durability
For you to ensure that the grappling dummies are durable, it is advisable to stick with reputable brands such as the ones listed in this review. For training equipment, always think about the quality over the quantity. A cheap price would not be wise if it will get damaged or destroyed easily. Think of this as an investment!
What Are The Best Grappling Dummies For BJJ and MMA?
Ring to Cage is a recognizable brand in combat sports and this is especially true in mixed martial arts. They are well-known because of the quality of the gears, apparel, and other training equipment that they produce. It is a trusted brand for many years, and one example of the company's excellence is the Ring to Cage Deluxe 3.0 Grappling Dummy.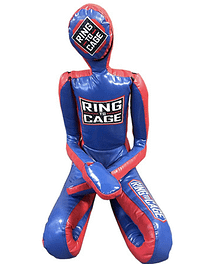 If you're aiming for a grappling dummy that's versatile and durable enough to absorb attacks, then this equipment may be the one you are looking for.
In terms of grappling attacks, dummies in the sitting position are a bit better compared to those in the standing position. And the reason for such is that this position more closely resembles a realistic position in actual grappling motions.
Another notable feature of this equipment is that it can also be an alternative to a heavy bag in case you don't have any available. The equipment is available in either unfilled or filled. They also a wide range of colors, sizes, and styles.
The only downside of this dummy is it is super expensive. But if you have the budget and wanted to invest in quality equipment that could help you improve your skills, then the Ring to Cage Deluxe 3.0 Grappling is one of the best options out there.
Upon seeing the grappling dummy for the first time, my initial reaction was over the aesthetics of the training equipment. It was apparent to me that the manufacturer also paid special attention to its design. It is simple, pleasing to look at, and overly styled.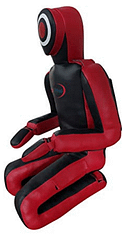 But aside from the design, they are also excellent for BJJ and MMA training that can help you improve your strikes and grappling skills. You can try out different combat scenarios with this grappling dummy and work out how you can effectively deal with them.
However, it may not be suitable for wrestling training or takedowns because of its position. But nevertheless, the CBC MMA Grappling Dummy is one of the best in terms of practicing your grappling and submission moves.
The DEFY Leather Grappling Dummy is best suited for practicing your grappling attacks. It is also a double face, which means that you can work on your punches in either way.
It is made of high-grade synthetic leather, which makes it very durable. The training equipment is strong that it can last even if you use them regularly under intense workouts. The grappling dummy comes in package unfilled and can be filled up to 70 kg.
Some of the best materials that you can use to fill the equipment include polyester fillers or old-used clothes. Another notable feature of the DEFY Leather Grappling Dummy is its amazing heavy-duty stitching. It means that it doesn't fall off easily.
The only issue is that according to comments from those who've used them, the size may not be accurate and may be shorter than expected. Fortunately, they offer an amazing five-year warranty on your selected item. All you have to do is to contact them.
The Kuell Grappling Dummy is made of quality materials that include military-grade vinyl. This specific feature makes them decently durable that can absorb high-intensity impacts as well. Another plus feature of the training dummy is that it is very resistant to tearing.
It's a standing grappling dummy, which means that it's also excellent for practicing your kicks and punches. The equipment is also resistant to sweat and doesn't absorb moisture. But it is a very easy wash as soon as it starts to smell.
The only downside of this training equipment is that it can be hard to fill up. Also, the zippers may not be as reliable compared to other brands listed in this review. But a positive note here is that the Kuell Grappling Dummy is the most affordable, among others.
Combat Sports is another popular brand that manufactures gears and other equipment for MMA, Brazilian Jiu-Jitsu, Boxing, etc. Just like Ring to Cage, the Combat Sports Legged Grappling Dummy is also high-end equipment that could cost you a lot of money.
But if you're investing in quality equipment that could help you improve your MMA and BJJ skills, then this grappling dummy may just provide you just that.
The equipment is very durable and versatile. It can take hard punches or throwdowns and can last long, even if you use them regularly. The design of the grappling is also perfect for practicing your submission moves.
It is mainly available in two colors that include black and green. It is made of military-grade vinyl and heavy-duty nylon. What this means is that aside from the durability factor, they are also very easy to clean and resistant against sweat.
Its only downside, however, is that it may not be as flexible compared to other items listed here. It might be a little stiff and hard to flex them. But overall, the Combat Sports Legged Grappling Dummy is great value for money if you want to move up your skills to the next level.
Final Thoughts
I hope my review of the best grappling dummies for BJJ and MMA has provided you sufficient information in determining which one you'll use in your training.
Whichever brand you choose, you can never go wrong with any of the grappling dummies on this list because they are among the best in the market. Which brand you'll use may just depend on your personal preference.
I also hope that the buyer's guide may help you in your future purchases.
Well, I guess that's just about it! Thank you for taking the time off and reading my review of the best grappling dummies for BJJ and MMA.