Welcome to my review of the Nike boxing shoes for women!
Shoe quality, design, and comfortability are important to anyone's performance. Not only does it give us a boost in performance, but it actually also protects our feet from injuries.
It is important for women to wear shoes that are specific to their gender. Women's shoes tend to be different in design to cater to the structure of their feet. Fortunately, the market is full of them, and you just need to pick the best!
Nike, a worldwide leading shoe brand offers tons of women's shoes. If you're looking for the best to wear for your boxing training, then this content is perfect for you! In this review, I will list some of the best shoes Nike has to offer that suit your boxing needs.
I also reviewed other combat sports brands in the past. You may check them out if you like—best boxing gloves for training, karate gear for kids, best shin guards, and best MMA gear brands, to name a few.
About Nike
Nike is a household name. The brand really needs no introduction, the same with its ever-popular "The Swoosh" logo.
The band was founded in 1964 by Bill Bowerman, he was a former track-and-field coach at the University of Oregon. Back then, it was formerly called Blue Ribbon Sports. They retained the brand for eight more years before renaming it Nike in 1978.
Since the opened its first retail stores back in 1966, it has seen rapid growth throughout the years and is still one of the most recognizable sports brands today.
It may not be accurate but almost all of us, at some point in our lives, have owned at least a pair of Nike shoes, or even other Nike apparel.
Of course, when we hear Nike, we might immediately associate the brand with Air Jordan as it is probably Nike's most popular and profitable product line. In fact, they are still in production today and continuing their development.
The Nike brand is popular for its trainer shoes, casual shoe, and specific sports shoes for basketball, volleyball, tennis, and golf. The brand has also extended its product line to combat sports, and most notably to boxing.
Boxing legend, Emmanuel "Manny" Pacquiao has worn a customized Nike HyperKO in some of his matches. Other prominent sports celebrities that have endorsed Nike include Tiger Woods, Roger Federer, and Mia Hamm.
Although Nike offers boxing shoes, it seems that there is less to offer to women boxers. However, there is no need to worry because they have CrossFit and training shoes that can be used for boxing training too.
Buyer's Guide
It is important to use proper boxing shoes because of the nature of the sport. One of the fundamental skills in boxing is footwork. To effectively initiate speed and agility and to be able to create angles, you will need to practice your footwork.
With this being said, it is of extreme importance to select the best possible pair of shoes that can help you improve your skillset.
There are several factors to consider in selecting the best boxing shoes that suit your preferences., some of the essential factors to take note of include the following:
Quality
First and foremost, it is better to stick with reputable brands to ensure the quality of the shoes you're using. The overall quality of the shoe will likely dictate how well the shoe will fit your preference.
Most high-quality shoes also are the better ones in terms of durability. If you're planning to buy shoes, remember to prioritize quality over quantity. It's better to buy the pricey ones instead of those cheap but fragile ones.
Comfort
The level of comfort may vary depending from person to person. With this having said, such a factor is based on the person's personal preference.
You could get an idea of how the boxing shoes are by looking at extensive reviews of the brand on YouTube. To make sure that the shoe you are planning to buy will be comfortable, it would be good to make personal measurements on your feet and compare them to the product specifications.
Grip
The grip is an important factor to consider because it allows you to keep your balance. Also, balance keeps you away from potential injuries. With boxing requiring constant foot movement and bursts of speed, having a sole with a good grip will be necessary.
Different sole materials have different grip strengths. They also have different applications. Since it is for boxing that you are gearing on, then it would be better to opt for rubber ones.
Weight
The weight of the shoes depends on your personal preference. Surely, its weight provides specific advantages over the other. For example, lightweight shoes give you the advantage of more movement and much faster footwork.
On the other hand, a heavier pair of shoes offer more stability and protection. It's really up to you which weight you'll choose, but you can never go wrong with either.
Ankle support
Boxing requires a lot of movement. As I discussed earlier, one factor that dictates your movement is footwork.
As you move around and improve your footwork, you would be using your ankles a lot. Therefore, injuries may likely occur if a proper pair of shoes weren't used.
Nike boxing shoes for women
The Nike Free Metcon 3 has a sturdy build. It is very durable that can last long hours of training.
The sole of the shoes is made of quality rubber that induces an excellent grip as you move around and improve your footwork. Such a feature also provides stability that reduces the likelihood of injuries related to slipping.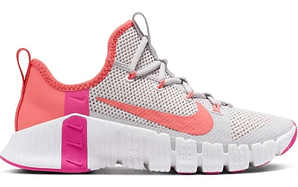 The only downside of the shoes is their low-cut design, which may feel like your ankles aren't supported. But its amazing grip compensates for that, so no worries there.
Another drawback that you may find is that the front end of the shoes is a little more solid than needed. Thus, it may cause bruising on the toe area in some people.
The design is aesthetically pleasing to look at, simple yet stylish. Overall, the Nike Free Metcon 3 is a great buy for a Crossfit shoe to be used for boxing training.
The Nike Free Metcon 5 is one of the best Crossfit shoes around that can help you perform at your highest level.
Like its predecessors, it is durable that it can endure extensive boxing training. Its difference from the previous versions is that the V5 feature of the shoes splits into firm and soft insoles. This is the most notable function of the shoes, its comfort factor.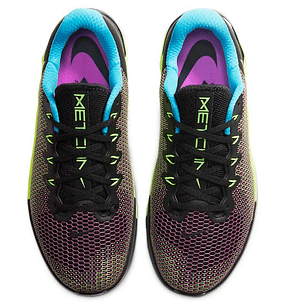 It is very soft and snuggly fits on your feet. Such a factor provides comfort and makes your training a more enjoyable experience.
If you have other activities than boxing, then the Nike Free Metcon 5 is your perfect partner for such an endeavor.
The Metcon Flyknit is another product line of Nike for Crossfit workouts or training sneakers.
This brand integrated the features of past versions that made them successful. It includes factors such as lightweight, versatility, extreme comfort, and amazing grip. These factors are not only valuable to Crossfit training but for combat sports also, as I explained earlier.
First and foremost is the grip, such a factor helps you to maintain your stance as you attempt an attack.
The outstanding grip of the Nike Women's Metcon Flyknit 3 Training Shoes also allows improved balance. Thus, it prevents any foot or ankle-related injuries.
One of the improvements of this brand from the previous version is that it is more durable. The manufacturer added more synthetic overlays to improve the longevity of the shoes. For this reason, you no longer have to worry about your shoes being worn out easily.
Again, you can also use them for other fitness activities like gym workouts, Crossfit training, running, or walking. Or other sports like basketball.
You can also use them for mild hiking or just for casual purposes as well. They also offer a wide range of designs and color combinations.
Final Thoughts
I hope my review of the best Nike boxing shoes for women has provided you with sufficient information in determining which brands you'd use in your training.
I hope that my buyer's guide would also serve you well in your future purchases.
One final piece of advice though is in purchasing which brands to use, it is important to put the quality of the shoes first over the cost.
If you're serious about boxing, then getting the right pair of shoes is of extreme importance.
There are cheaper brands in the market, and most of them are certainly from unrecognizable brands or imitations. But as cheap as they are, the level of quality and safety that these brands offer may not come close to those offered by recognizable and reputable brands.
Well, that's just about it! I hope to see you next time!