Welcome to my review of the best gears for neck harness exercises!
A neck harness is an accustomed piece of equipment for training the neck. It is a very simple and cheap tool but it definitely works. If you're looking for a topnotch harness that can improve your neck strength, then you have come to the right place!
In this review, I will provide a list of some of the harness in the market and help you determine which one suits your personal preference.
Why Use A Neck Harness?
Strengthening your neck is an important part of your workout if you're training for combat sports like Boxing, Mixed Martial Arts, Brazilian Jiu-Jitsu, Wrestling, etc…
Aside from the abovementioned sports, they are also important in other contact sports like football or rugby. The neck muscles are a critical part of the core muscles that surround the cervical spine, and strengthening these group of muscles will give you a significant advantage.
Having a strong neck muscle is advantageous because of the following reasons:
It reduces the risk of neck injuries and nerve damage
It enables the fighter to better evade attacks like tackles, kicks, punches, etc.
Improved energy
Faster head movement
It betters protect your jaw
It may improve your balance and head stabilization
As you see, this gear is a good investment if you're serious about your training and wanted to take your game to the next level.
I also have reviewed other gears, apparel, and other essential equipment in combat sports. You can check them out if you like—Best Boxing Gloves for Training, Best Percussion Massagers, Karate Gear for Kids, and Best MMA and Boxing Shoes for women, just to name a few of them.
Buyer's Guide
It is important to buy the right neck harness to ensure the safety and quality of your training experience. There are several factors to look for when buying a neck harness
Durability
Durability is an important factor because you're be using them around your neck and swinging it around. For higher level neck exercises, weights may also be added for stronger resistance. A weak harness may easily break and can possibly injure your neck.
Comfort
I think comfort is a no brainer since you'll be using them for the entirety of the workout. How the neck harness feels when worn is important. Low quality neck harnesses may produce friction when you are swinging it, which will lead to you not finishing your neck workout.
Adjustability
The adjustability of the neck harness depends on your size. There are neck harnesses that can't be adjusted, so it is recommended that you choose the one that's easy to adjust for convenience.
The Best Gears For Neck Harness Exercises
If you're looking for a harness that's made of leather, then consider buying the Harbinger Padded Leather Head Harness. It is made of 2.5mm leather that provides maximum toughness. Aside from these features, the paddings are made of polyester shearing that makes them very comfortable to wear.

They are also lightweight, which makes your workouts a more enjoyable moment. The harness is also fully adjustable. What this means is that it provides a secure fit that enhances the comfort level.
The steel of the head harness weighs 1 pound and has a length of 30 inches. And it can hold a plate that's about 250 pounds of weight. It can absorb a lot of tension, translating to better workouts that result in the strengthened neck and spinal muscles.
It also has D-ring connectors that properly lock the plates and prevent it from falling and banging towards your body. The only downside of the brand is that there are comments that it may not be as durable than others and may tear off easily.
RDX is a widely recognized brand in regards to combat sports. This is especially true when we talk about mixed martial arts. And this brand is popularly known in the world combat sports for a good reason. They manufacture high-quality gears, apparel, and other necessary equipment that left customers satisfied and buys more of their offerings.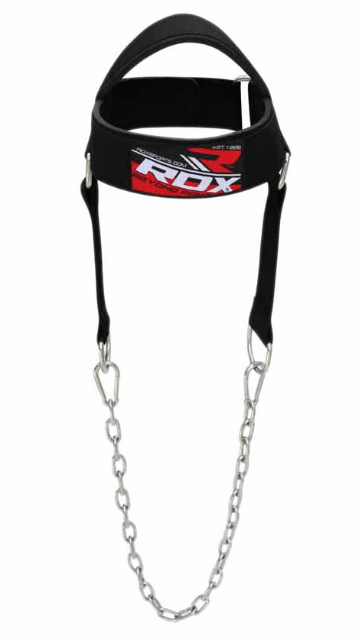 If you're looking for a topnotch neck harness to accompany your training, then the RDX Head Harness is what you're looking for. Its design is minimalistic. It is simple that even from the overall aesthetic of the harness, you can immediately have the impression of its outstanding comfort level.
And it is so because of the triple-layer padding absorbs a huge level of tensions and shocks while providing comfort through its soft cushions and paddings. In addition to comfort, it is also very durable and resistant to tearing. With these features in mind, you are assured that you can use them for a very long time.
Lastly, the headgear features a super convenient hook-and-loop system that provides an easy way to adjust them. Overall, the RDX Neck Harness is a great buy to support your workouts!
Title or Title Boxing is another well-known brand in combat sports. Although part of the name says boxing, they manufacture gears, apparels, and other essential equipment for various forms of martial arts disciplines. I personally love the brands' line of boxing gloves because it is of high quality and comfortable wear. Their designs are also worth mentioning. As a whole, they are simple and not flashy.
One example of their excellent craftsmanship is the Title Neck Strengthener. If you're not comfortable with chains hanging around your neck, then you may check out this brand. However, take note that this training gear is more of a weight than a harness.
What this means is that it differs in terms of where it is positioned. Instead of wearing it around your neck, it is placed on your head. The disadvantage, however, is that it covers your eyes. A disabled sight during the duration of the workout may be uncomfortable to some, but it does possess certain advantages nevertheless.
One apparent factor is the level of comfort since that there's no chain hanging around your neck, as mentioned earlier. Choosing this brand eliminates any unpleasant feeling caused by the heavyweight and swinging motion of the chain. It allows your head free movement in all directions.
However, some may also find that the fixed weight inconvenient. Yes, this gear has a fixed weight of ten pounds, which you can no longer add or reduce. Although it is not a traditional neck harness, I still believe that the Title Neck Strengthener is a good investment in helping you condition your upper body.
The Hawk Sports Neck Harness is equipped with a thick 4mm neoprene padding that is ideal for strengthening your neck. In addition to this, it is reinforced with a 30-inch long chain that is attached to each side for better adjustment.
It also has a hook-and-loop closure that comfortably locks your head and neck, and provides convenient adjustment as well. The neck harness can support up to 150 pounds. But if you're a beginner or not sure with how much weight you can tolerate, it is recommendable to start small or stick with the usual mass you're using before going higher.
But most importantly, the Hawk Sports Neck Harness is strong and can resist a lot of tension. They are also durable that could last for a long time.
The DMOOSE Fitness Neck Head Harness is made of neoprene. This material is very strong and durable and comfortable to wear. This neck harness is specially designed to resist tensions from the chains and plates.
It also has outstanding stitching that strongly holds the entire structure in place. The chains attached to the head harness are stitched the same way that provides stability and reduces the likelihood of tearing.
Lastly, I personally like the color combination and overall aesthetic of the DOMOOSE Fitness Neck Head Harness. They are not overly designed and pleasing to look at. The brand also offers five various colors to choose from that suit your preference.
Final Thoughts
I hope my review of the best gears for neck harness exercises has provided you sufficient information in determining which brand you'll use in your workouts.
But you can't go wrong with any of the items listed in this review because they are among the top brands in the market. And which you'll choose may just be a matter of personal preference.
One final advice though, it is recommendable to extend your research once you've chosen a candidate. I would also advise that you read comments from other people who've used it as well.
This is to further ensure that what you're buying suits your needs.
I also hope that the buyer's guide relayed may help you in your future purchases.
Well, I guess that's just about it! Thank you for taking time off and reading my review of the best gears for neck harness exercises.