Welcome to my review of the top preferred Everlast boxing shoes for women!
Everlast is one of the oldest and highly regarded boxing gloves companies, and over the decades definitely grew the reputation of making high-quality boxing apparels and equipment.
If you are a woman looking for the best boxing shoes in the market, then I've got you covered. This review lists Everlast boxing shoes that is specifically designed for women.
About Everlast
Everlast is the most recognizable and trusted brands in combat sports especially boxing. They were established since the early 1900s and have been the world's leading manufacturer, marketer and licensor of boxing, MMA and fitness equipment.
If you are looking for quality yet affordable combat fighting gears, then Everlast is the brand, as its the of choice for generations of world champion professional athletes.
Probably, their most well-known gear is their boxing gloves. You may have seen them being worn by many fighters in the past few years. The brands were also used by boxing legends and superstars that include Muhammad Ali, Mike Tyson, Deontay Wilder, Nonito Donaire, and Lennox Lewis.
Another thing I admire with Everlast brands is their overall aesthetic, simple yet pleasing to look at.
I've also reviewed other brands in the past; you may check them out if you like—Best Boxing Gloves for Training, Best Boxing Shoes for Women, Best Kickboxing Gloves for Women, Best MMA Gloves for Women, Best Girls' Wrestling Headgear, Best Women Fighting Shorts, and Best MMA and Boxing Shoes for Women, just to name a few.
Everlast Boxing Shoes For Women
The Elite High Top is probably the best one for women that you can find under the Everlast brand. This is recommended for beginners because they can be used for both training sessions and official competitions as well.
Footwork is extremely important in boxing. Maintaining your stance could spell the difference between winning or losing, or successful workouts or obtaining injuries. In short, this pair of shoes is a great investment if you're truly passionate about boxing and want to take your training very seriously.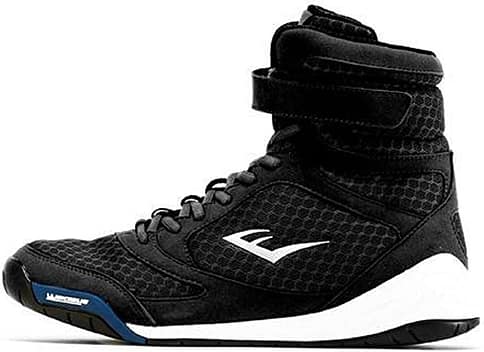 You can never go wrong with these boxing shoes. Aside from its overall aesthetics, it offers maximum safety features with its outstanding grip and it can definitely help you support your balance as you carry out your training.
In addition to its safety feature, the Everlast New Elite High Tops is also constructed with a technology the company refers to as the Michelin® Technical Sole.
Everlast states that this technology comprises the combination of open weave mesh, microfiber, and suede. What this does is that it provides a high level of balance, flexibility, and traction without compromising comfort.
The interior cushions of the shoes are simply amazing. You can wear them during long hours of training without inducing any discomfort as a result. In regards to the cushions, it might worry some wearer that the softness would become unbearable in the long run. However, rest assured that this is not the case.
If you find the right size, it comfortably arches the contours of the fighter. In some cases, it may be a little large when worn by women, but still wearable nevertheless. In my opinion, it is still a good buy if you're aiming for comfort and protection.
If you're not comfortable wearing high top boxing shoes, Everlast also offers low top ones that suit your preference.
The Everlast PIVT Low Top Boxing Shoes has similarities with the previously discussed shoes. For one, it is also constructed with the technology the company refers to as the Everlast and Michelin® Technical Sole.
As mentioned, this feature is made of premium leather and comprises the combination of open weave mesh and microfiber. What it does is it helps the wearer to move around as they carry out their training sessions.
In addition to this, the grip of the boxing shoes is amazing that helps you support your balance in the process and reduce the risk of potential injuries from occurring. The Everlast PIVT Low Top Boxing Shoes is also very lightweight and comfortable. Therefore, it provides a pleasurable experience to the fighter during workouts.
Just like the Everlast New Elite High Tops, they can also be used in official bouts. But it may also depend on the standards of the competition. This pair of boxing shoes, however, is more advantageous because the low top ends allow better flexibility and movement.
Although it doesn't offer much protection compared to the high tops, they still provide a high level of protection nevertheless.
However, the PIVT Low Top also has durability issues. What this means is that it might not be as durable compared to other leading brands, and may not last long compared to them as well.
This may be the case but they are still a great value for money and perfect for both advanced fighters and beginners as well.
It is a little expensive, though. But remember that it is important to put quality over cost if you're buying the perfect pair of boxing shoes.
Editor's Alternative Women's Boxing Shoes
Everlast offers the best fighting gear around. But in case you're not sure with the shoes that are available in that brand, then here are some few alternatives you can choose from.
Adidas, as you obviously know, is a worldwide leading shoe manufacturer. This Speedex 18 Adidas shoes is well-priced considering how high its quality is.
The shoes are incredible lightweight, obviously is built specifically to help with speed and agility in the gym. The fit of this shoes is locked in with foam that ensures comfortability. The straps on the heel helps your feet to be stable, flexible, and fast.
With all of these features, the shoe is also made up of durable material, proving its point to be a wise choice!
If you've never seen a Venum brand before, the first impression you may have upon first seeing them is the overall aesthetics and how beautifully crafted they are. But not only do they have cool designs, they can definitely help you move up your game to the next level.
The sole, made up of rubber, in this shoe is intricately developed to combine characteristics such as lightness, strength, grip, and stability. They are versatile, lightweight, and comfortable. But aside from such features, these pair of boxing shoes offer a lot of protection that reduces the risk of injuries.
Adidas is a well-known brand and one of the most recognizable brands in terms of quality shoes. Therefore, you can never go wrong with this pair in case you choose them.
The Adidas Hog 3 Boxing Shoes, in particular, is the perfect pair if you're aiming protection and comfort. They are lightweight and such a pleasure to put on.
The only downside, however, is that the paddings on the mid-cut area may be a little bulky, which may interrupt the flow of your movement. But nevertheless, the shoes are a great buy because they offer optimum protection. This is so because of its amazing grips that support your balance as you move around during training.
Hayabusa is another topnotch combat sport apparel manufacturer. The Hayabusa Pro's biggest feature is the synthetic sole that provides incredibly flexibility and grip plus it is one of the best boxing shoes for both ankle supportiveness.
With a mid-height construction that supports your ankles, the shoe offers a snug fit. As you exercise, the mesh ventilation keeps you cool and comfortable while the cushioned insoles molds to your foot with gentle padding.
Final Thoughts
I hope the review of the Everlast boxing shoes for women has provided you sufficient information in determining which one you'll use in your workouts.
But you can never go wrong with any of the shoes listed in this review because they are made of quality materials from a reputable brand.
But in case you're not sure with any of the Everlast boxing shoes, I hope the alternative boxing shoes have helped you in selecting the right one that suits your preference.
Well, I guess that's just about it! Thank you for taking time off and reading my content!