Welcome to my review of the what are the best mouthguards for fighters!
If you are a fighter, the importance of mouthguards is pretty much self-explanatory. It helps you to protect yourself and reduce the risk of injuries, particularly in the jaw and oral area that includes your lips, teeth, and mouth in general.
As you're searching for the best mouthguards in the market, the number of brands to choose from might have overwhelmed you.
If you want to know the best mouthguards for fighters, whether you are training MMA, Boxing, or Muay Thai, then you have come to the right place!
In the review, I will provide you a list of some of the best brands around and help you determine which one suits your preference. In addition, I prepared a buyer's guide in the last sections of this content to help you with your future purchases.
Buyer's Guide To The Best Mouthguards For Fighters
There are several things to consider when buying a mouthguard for your training in MMA, Boxing, or Muay Thai. Some of these considerations include the following:
Size
Always refer to the size chart as you're searching for the mouthguard that suits your preference. Apparently, this is important because you don't want the mouthguard moving around as you're training.
The size is also critical when it comes to your dental health. Wearing the wrong sizes could cause misalignment or malformity in your teeth.
However, you do not have to worry about not finding the right one because most products have products ready for all kinds of sizes, especially if you opt for boil and bite ones.
Design
The overall design of the mouth is pretty much subjective. For example, I mentioned earlier that I personally like the aesthetic of Venum Predator because of the fang design.
Some may find it too flashy and may get mouthguards that are simple with plain designs. Another mouthguard design you have to consider is whether you prefer Boil and Bite or Custom Fit.
If you're aiming for overall protection, then Custom Fit is what you might be looking for. These mouthguards offer the best protection and fit possible for fighter engaged in any type of combat sports.
On the other hand, Boil and Bite offer a high level of protection. But most fighters select them because they are cheaper. Their characteristic, however, is that they tend to soften when exposed to liquids, reshapes when placed under pressure, and then it eventually solidifies.
In either case, both designs are great and offer maximum protection.
Comfort
In terms of comfort, you again have to consider whether it's Boil and Bite or Custom Fit. The best mouthguards for fighters quite often always are the ones that offers the most comfort.
Each design offers different types of comfort levels, so you may have to experience both mouthguards to determine which one is more comfortable. I would say breathability is under comfort. Not all mouthguards when worn are easy to breath with.
The Best Mouthguards For Fighters: MMA, Boxing, Muay Thai
Venum is my favorite MMA brand. When I look for MMA gears, I specifically look for Venum first. What draws me to their products is the overall aesthetics and quality of apparel and MMA gears that they are manufacturing. I mean, their designs are just pleasing to look at.
And it is for these reasons that two of their top mouthguards have made this list. First, let's talk about the Venum Predator Mouthguard.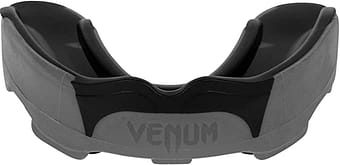 The initial reaction that you might have upon seeing them is the design. It has a fang-like design on the front similar to its cobra logo.
You'll definitely gain attention once you wore them. Yes, this may be so, but what about the performance of the mouthguards? As aesthetic as they are, this gear offers maximum protection and comfort.
Its rubber shell is very durable yet moldable. This mouth guard is a boil and bite type, so be confident that it will perfectly fit in your mouth.
The Venum Predator Mouthguard also offers excellent shock absorption that protects you from any injuries. Although this mouth guard is slightly bulky, it is because of the three layers that further strengthens overall protection.
The Venum Challenger Mouthguard is another excellent product of the French combat sports brand. Although not as better as the Venum Predator Mouthguards as mentioned above, it is cheaper in cost.
Venum boasts this particular challenger mouthguard as one of their advanced designs and it is especially designed to help the fighter achieve optimum breathing during sparring sessions.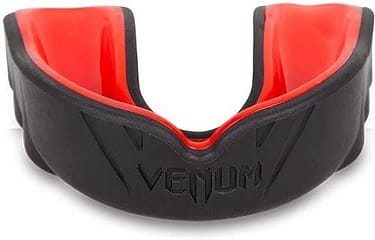 The rubber of the Venum Challenger is highly dense that offers maximum shock absorption. Having such a feature in your mouthguards reduces the risk of potential injuries. The feature Nextfit Gel frame allows the user to experience comfort while inserting the mouthguard
The fang designs of this mouthguard are not as prominent as the Predator, but they are still the best option if you're aiming for overall protection and comfort at an affordable price.
If you're not comfortable with the designs of Predator, then you can also go for the Challenger product line. Either way, you can't miss it.
Let's continue things off with one of the most recognizable mouthguard brands around the globe, the Shock Doctor.
This company is not only the leading manufacturer of mouthguards but also other types of protective gear such as forearm pads, cups, supporters, elbow guards, compression wraps, etc…
One example of the best mouthguards that they offer is the Shock Doctor Gel Max. In fact, it is also one of their most popular mouthguards.
A notable feature of this specific brand is its shape and molding, which perfectly fits in your mouth and prevents it from moving around or, worse, falling. It has its one of a kind integrated breathing channels that allows maximum performance and breathability.
It surprisingly comes in two variances, flavored or non-flavored. And it is also available in two variations, adult or child. But they offer a wide range of color that suits your preference.
Designed with an exoskeletal frame and designed with an gel-fit liner., this is the most durable mouthguard and comfortable on our list. However, it is much pricey than the first Venum products.
The Max Airflow mouthguard is another variance of Shock Doctor brand that I personally like. This product is specifically designed for brilliant breathability and comfortability.
The BPA-free mouthguard has a design that allows more airflow capacity, around 10 percent more, compared to the regular brands. This design is also suitable for those who are wearing braces, as it has more protection over to the gums.
Sparring sessions may take its toll during intense workouts, and the Shock Doctor Max Airflow Mouth Guard helps you to maximize breathing for better performance.
Without the need for molding, the flexible polymers and crucial bite-pads can ensure the user's optimal comfort. This mouthguard might be something to think about if you out-box and engage in more cardio.
Issues say that along with time, the mouthguard may crack. But, its amazing fitting, overall protection, comfort level, and the unique breathability feature, this mouthguard would be a smart choice for fighters.
Impacts are an inherent part of combat sports. And, commonly, some of those punches may land in the area. With this being said, it is important to take proper measures to reduce potential injuries.
The Everlast Evershield Double Mouthguard lives up to its name. The brand, most known for its history in Boxing, is ever-reliable in shielding your mouth from high-level impacts that may occur during sparring workouts.
This particular combat sports gear is heavy-duty. Therefore, you can also rely on them for long-term use. It is also a double mouthguard that protects both the upper and lower jaw.
A strong outer layer specifically created for upper and lower jaw protection is encircled by an inner layer that absorbs shock. The boil and bite design of the Everlast Evershield allows for a precise fit, while the central breath channel promotes free airflow.
Despite these protective features and its durability, the Everlast Evershield Double Mouthguard is comfortable to wear.
Are you a fighter that is keen on costs of your gear? If so, you might want to have a look at the Sanabul Single Mouthguard, which is thought to be the most reasonably priced mouthguard available.
Sanabul is a martial arts company engaged in the design, development, manufacture and sale of striking gear, mostly focusing on traditional Jiu-Jitsu. However, they also have the best gears for all application of combat sports.
This type has the boil and bite design, in contrast to the majority of the mouthguards on our list. It is also quite thinner in construction than most. This pleasing feature allows fighters to breathe easily, especially in cardio-demanding and stamina-draining situations.
Due to its constructions, this mouthguard would be best for fighters training under Jiu Jitsu or Wrestling disciplines.
RDX is another reputable MMA brand. With this being said, you can't go wrong with this brand as well. The RDX Mouthguard has a boil and bites design. What this means is that such a feature allows perfect fit when worn by the fighter.
RDX boasts their shell-shock gel technology in this mouthguard, which helps in absorbing impact excellently. The design is also embedded with acrigel padding that gives teeth, especially the molars, additional cushioning.
Another notable feature of this brand is the Tri-Flow Technology that enables optimum breathability even under intense sparring sessions. Lastly, this mouthgard is easy to store due to its free friendly casing.
The SISU Mouthguard Aero is not as dense compared to other gears listed in this review, but they are definitely super comfortable. Also, the benefit of thinner mouthguards is that it enables you to talk during training.
The SISU Aero's incredibly thin and light shape is its most distinctive characteristic. The Aero is 50% thinner than a typical mouthguard at a trim 1.6 mm.
It's simple to forget there is something fantastic and plastic within the mouth thanks to its rapid, bespoke, and remoldable fit. It enables you to drink and breathe easily even in times that you're wearing them.
Sis features their one-of-a-kind Diffusix technology in this mouthguard. The impact force taken during sparring will be distributed over a large area which lessens the risk of dental injuries, which proves to be one of the best mouthguards for fighters.
Final Thoughts
I hope my review of the the best mouthguards for fighters has provided you sufficient information in determining which brand suits your preference.
I also hope that the buyer's guide may help you with future purchases.
Regardless of what brand you choose, you can never go wrong with the ones listed in this review because they are among the top mouthguards in the market.
One final advice, though, it is better to stick with reputable brands to assure the quality of the mouthguards, always put quality over the cost.
There are cheaper mouthguards from unknown and obscure brands, but I assure you that the quality and level of protection is incomparable as to those offered by reputable brands.
Well, I guess that's just about it! Thank you for taking time off and reading my review of the best mouthguards for fighters in general!