Hello! Welcome to my "Best Jump Ropes For Boxing" article! (Updated for 2022!)
One of the fundamental skills that any aspiring boxers need to develop is footwork. Good thing is, you won't be needing a coach for training to have quick feet because you can jumpstart it by simply using gears and equipment.
The most common tool, but also one of the best leg strengthening equipment for Boxing is the jump rope!
Whether you are a beginner or a well-seasoned professional, as long as you are looking for Boxing jump ropes, this article is for you! I will be showing you the best jump ropes for Boxing in 2022.
This article will definitely ramp up your training and improve your overall performance in Boxing! With that being said, let's get started.
Benefits of Jump Ropes
Although some people skip using jump ropes and some of them only see it as a mere children's game, the tool actually has a lot of benefits for boxers!
Including jump ropes in your workout routine can greatly enhance your endurance and stamina. When you jump rope, usually, you will be experiencing it at a fast pace. When this happens, you are preparing your cardiovascular system for whatever you will be experiencing inside the ring during your matches.
Remember, most Boxing matches have 12 rounds, 3 minutes each. You must be able to have the ability and energy to go through those rounds, and at the same time, take punches from your opponent!
Another important thing that boxers need to improve is their footwork and coordination. Moreover, the best boxers are great at using their hands and feet in unison. Jumping rope has a repetitive motion that can help you enhance these.
Furthermore, your footwork will be improved since your feet will be moving quickly. When you do jump rope, you must learn how to always stay on the balls of your feet. Soon, you will feel that your technique, agility, speed, and even your balance have all greatly improved.
How to Pick a Good Jump Rope
Before we move to the best jump ropes for Boxing, let's discuss the factors that are important to consider when you are picking jump ropes in 2022. Here they are:
#1 Rope material
The main thing you must look for in a jump rope is durability. But you must be careful because most of the time, it is traded off with weight.
For beginners, you must look for jump ropes made of PVC plastic or licorice. These kinds are lightweight and very flexible. Moreover, most boxers prefer these types of jump ropes because they are often cheap and can easily get the job done.
#2 Handle
The next important thing you must consider is, of course, the handle. I suggest not choosing the heavier ones since they can slow you down. So, look for lightweight handles.
Moreover, handles can easily tear and wear. With that, I suggest looking for aluminum and shatterproof handles for durability.
As for the length of the handle, usually, the medium ones are excellent for most people's needs. However, if you are aiming to improve your speed, then you should go for the short ones.
#3 Length
Last but not the least, the length of the jump rope. This is very important. You do not want to get a jump rope that is too long since it can get tangled on the ground, making you slow down. When it is too short, it will be more difficult for you to jump over it!
For beginners, you want to pick the one that is a bit longer, and that will swing between 16 to 30 inches above your head. This will drag on the floor, which will not improve your speed. However, it will be good for practicing your rhythm.
If you are into regular fitness, you should look for jump ropes that will swing 6 to 10 inches above your head because this is good for increasing your speed, as well as practicing your rhythm.
Let me give you some advice or secret to picking the best length of your jump rope. It all depends on your height! Here is a table.
| Height of Person | Rope Length |
| --- | --- |
| Under 4′ (1.22 meters) | 6 ft (1.83 meters) |
| 4′ to 4'9" (1.22-1.45) | 7 ft (2.13) |
| 4'10" to 5'3" (1.47-1.60) | 8 ft (2.44) |
| 5'4" to 5'10" (1.62-1.78) | 9 ft (2.74) |
| 5'11" to 6'5" (1.8-1.96) | 10 ft (3.05) |
| 6'6" and above | 11 ft (3.35) |
Best Jump Ropes for Boxing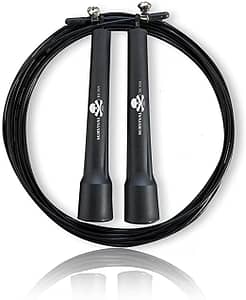 Let's start the list with a jump rope from Survival And Cross Jump Rope. The handle measures 5 inches, and is made up of a special plastic making it one, if not, the most compact jump ropes you could ever find today.
This jump rope is full adjustable up to 10 feet which makes it very convenient for speed and endurance workouts for adults of all sizes. It is easy to use and carry with its anti-twist and tangle coated steel cable.
Another feature that makes this jump rope the best is its enhanced ball bearing technology. It makes users a fuller and faster jump in every swing due to the easy, smoot, and proper motion that the rope provides.
Whether its just for cardiovascular endurance purposes, or intense Boxing footwork exercises you are looking for, the Survival And Cross Jump Rope is a wise choice!
As of June of 2022, this jump rope has an average rating of 4.2 out of 5 on Amazon.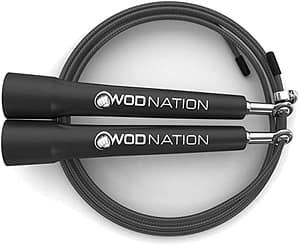 Some people prefer using jump ropes with cushion grips. If you are one of them, then the WOD Nation Speed Jump Rope is perfect for you! This jump roap boasts a grip and cable that is made from a premium surgical steel, ABS material.
The jump rope really feels good in your hands even if you are performing extended duration of workouts, because the material allows a stable rope swing that helps quick recovery in occurance of inaccurate swings. Not only this jump rope swing fast, but it also lasts for a long period of time!
However, like all steel cable jump ropes, it is highly intended to be used on smooth surfaces only. Using this rough surfaces like cement will destroy the coating on the cable and be the cause of further damage. To customize the jump rope, a wire cutter is advised. So to be able to maximize the most out of this jump rope, make sure to be accurate on what length is optimal for you
This jump rope is designed for WOD workouts, MMA, Boxing, speed jumping and many more.
As of June of 2022, this jump rope has an average rating of 4.4 out of 5 on Amazon.
The Elite Surge Jump Rope is made from the highest quality materials! This is perfect for Crossfit double unders and Boxing enduranc/footwork exercises. In fact, in the 2015 National and World Championships of Jump Rope, this was the one that was used.
It has aluminum easy-grip handles. Moreover, it possesses a dual ball bearing design that enables the user to perform smoother and faster jumps. The Elite Surge Jump Rope is actually classified as one of the fastest jump ropes we have on the market today because of its offset head design that generates a centripetal "whip" effect, providing more input for developing a double unders rhythm faster than traditional speed jump ropes.
As of June of 2022, this jump rope has an average rating of 4.5 out of 5 on Amazon.
GoxRunx Skipping Ropes are perfect for users who prefer easy and enjoyable to use jump ropes. Aside from the fact that these ropes are both tangle-free and long-lasting, the soft memory foam anti-slip handles provides the best comfort with grip, making userslast longer if training for endurance.
The jump rope is made of PVC-coated thicker braided steel wire while boasting a anti-dust ballbearing system. This jump rope is also suitable to be used for outdoor exercises. These features make up for a durable and long-lasting jump rope.
As of June of 2022, this jump rope has an average rating of 4.4 out of 5 on Amazon.
If you're looking for a well-designed jump rope that uses advance technology, then the Ellenium Speed Jump Rope is what you are looking for. Its innovative ultra-light and bearing technology allows for smooth rotation and comfortability.
Its self-locking and ergonomic handle features makes it easy to use and set-up. The handle is made up of stainless steel material, preventing it from rust and dents when dropped from heights. The 10 feet long rope coated with high quality polymer reduces friction and enables for a smooth rotation.
This rope is suitable for endurance exerices in boxing because its lightweight technology reduces and minimizes arm and shoulder stress that can cause fatigue.
As of June of 2022, this jump rope has an average rating of 4.4 out of 5 on Amazon.
The Bear KompleX Aluminum Speed Jump Rope is one of the most durable jump ropes there are as of today. This jump rope can withstand falls which is perfect for high intensity Boxing applications because of its toughness.
The rope has a smooth bearing casing that allows you to manage speed and maintain a consistent pace. The handles can easily be adjustable. One perk of this jump rope is that it comes with a carrying bag and two interchangeable rope cables and speed bearings.
As of June of 2022, this jump rope has an average rating of 4.6 out of 5 on Amazon.
The 5Billion Attack Jump Rope has one of the best ergonomic handles for jump ropes. It is very suitable for athletes and boxers because of how easy it is to maintain a secure grip during movement, even when sweating.
This rope has a pro ball bearings that helps you keep a high momentum and reach extreme speeds up to 320 jumps per minute. The cable is slightly heavier than those mentioned above, but it comes with a fully 10 feet adjustable cable. It also comes with an anti-abrasion tube and a carry-on bag, making it very portable and easy to bring.
As of June of 2022, this jump rope has an average rating of 4.4 out of 5 on Amazon.
The new and upgraded Goothdurs Speed Jump Rope is best for athletes and boxers. This tangle-free jump rope's maximum length is roughly 9 feet. It is also equipped with 360-degree ball bearings in each handle enabling you to swing effortlessly and quickly with minimum effort.
It has a self-locking adjustment and is screw-free, making it simple to adjust. The cables are coated with a tough rubber. To modify the jump rope, simply cut the cable using pliers. The lightweight metal handles offer an anti-slip design that is ideal for lengthy exercises. It comes with a carry-on bag and an anti-wear pipe.
As of the June 2022, this jump rope has an average rating of 4.1 out of 5 on Amazon.
XYLsports Jump Rope is one of the cheapest jump ropes there are readily available, making it best to use for beginners who are seeking to train Boxing, or for other applications. The rope's diameter of 5mm is also a feature that is popular in the fitness world.
It helps improve flexibility and develop core strength. It works for all ages. It comes with a 9 feet, 8 inches adjustable cable with foam grips. It provides a smooth swing with less effort. It is exclusively designed for fitness and sports lovers. It doesn't tangle easily and is easily uncoiled. It is made with premium quality materials and is extremely durable.
As of the June 2022, this jump rope has an average rating of 4.4 out of 5 on Amazon.
WODFitters Ultra Speed Cable Jump Rope is designed for athletes with a ball-bearing tech and system for faster jumps. It has the classic red or black color, making it look nice. This jump rope is so portable and has ergonomic handles! So you won't have to worry about hand cramps anymore!
It is durable, lightweight and has an adjustable length. However, it is not recommended for athletes who are over 6'4" because its maximum length is only 10 feet. Moreover, it is not ideal for concrete since the plastic coating can easily wear out.
As of the June 2022, this jump rope has an average rating of 4.4 out of 5 on Amazon.
Bottom Line
Well, there you have it – the top 10 best jump ropes for Boxing. In this sport, MMA and other combat sports, it's not just about heavy bags, speed bags, gloves, sparring sessions and many more. Jump ropes are an essential thing to be part of your workout routine.
Never skip them and learn how to use it! It is very beneficial for you and your body. Moreover, it can greatly enhance your overall performance. Never underestimate this simple tool.
Thank you so much for reading my "Best Jump Ropes For Boxing" article! I hope that it helped you in looking for your perfect jump rope!
If you have any questions or comments, let me know below in the comment section!