Welcome to my review of the 10 best gym bags for MMA!
As you train MMA or any combat sport more seriously, you will start to realize that having the appropriate gear is quite a necessity. One piece of equipment that most people tend to oversee is the gym bag.
It's not really a requirement to have a gym bag, but it's makes things much easier when you have one. Being able to pack and squeeze all of your things such as clothes, gloves, shoes, food, and other accessories is a nuisance. That is unless you have the right sized gym bag that will make your things organized.
Another reason why a gym bag is better than a normal bag is that it has the compartments for specific things such as water bottles, gloves, mouthguards, and even shoes. Commonly too, gym bags are made up of breathable and anti-bacterial material, something helpful because your clothes get sweaty often.
If you're wondering which brand of gym bag to use for your MMA training, then this content is what you're looking for! In this review, I will be providing 10 Best Gym Bags for MMA and help you determine which brand suits your preference.
10 Best Gym Bags For MMA
At first sight, the Venum Trainer Lite Sports Bag may look heavy, but as the term suggests, it is lightweight and very comfortable to wear. In addition, the interior of the bags is very spacious, which allows you to fit all your MMA needs in one go.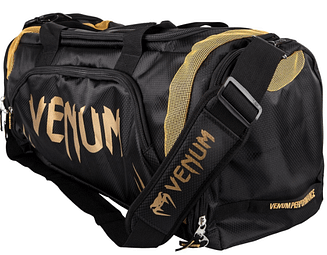 Some of you might think that putting all items inside causes them to become heavy and a burden to carry. But you don't have to worry about this because the shoulder straps balance the weight of the bag, thus, making them comfortable even for long hours of commute.
An amazing feature of this bag is its special zip pocket on the side allows you to easily separate your clean and used clothes worn during your training session. The bag also is breathable that allows your gear fresh and far away from bad smelling microbes.
Venum is known for manufacturing aesthetic combat fighting gear. And this duffel is definitely no exception. I like the overall design of the bags, and its solid colors are pleasing to look at.
If you're looking for factors such as durability, lightweight, comfortable, sturdiness, breathability, and overall aesthetics, then the Venum Trainer Lite Duffel Bag is what you're looking for.
The Addidas Unisex Defender III is the duffel bag you're looking for if you're aiming is convenience. This bag offers many smaller compartments. A main zippered compartment for clothes and gloves, a smaller front zipper for extra storage, and several side pockets and inside pockets that will fit your accessories well.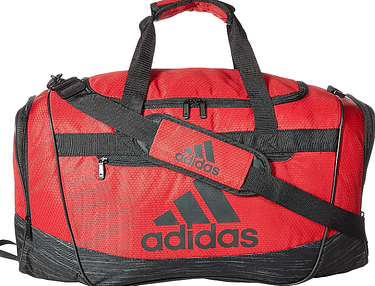 Made with 100% polyester, the only problem is with how comfortable they are for your shoulders since the paddings is not that thick. Nevertheless, this gym bag is one of the cheapest but also solid in the market.
This duffel bag will make your organization easier. Plus, with reinforced ripstop fabric and a lifetime warranty, this bag is built to last.
This gym bag is the perfect option if you're aiming for durability and breathability. The feature mentioned is very important because it enables proper ventilation. What it does is it keeps the air flowing that prevents the accumulation of foul odors caused by sweat.
At first sight, it may look small, but it is offered in two sizes. And the duffel bags are quite stretchable, which makes them suitable if you have extensive things to bring with you to the gym.
But never worry about stuffing your things inside the bag because, as I mentioned, they are perfect if you want a durable bag to use during your MMA training.
According to comments by consumers, they say that it is uncomfortable to use sometime, although it has an apparent shoulder strap available. But overall, the Elite Sports Mesh Duffel Bag is a great buy that can definitely help you organize your MMA gears and keep them odorless as much as possible.
Fairtex is a well-known brand, especially in combat sports like MMA, Muay Thai, and Kickboxing. They have a large selection of gears and apparels, and one of which is the Fairtex Gym Bags. They are the perfect pair for your other Fairtex gears.
Probably, the first thing you'll notice about these gym bags is the motto or inspirational word in front that's supposed to encourage the fighter, "NEVER GIVE UP."
What makes them more desirable is that they are perfect for people with extreme needs for the organization. This is so because they have a lot of pockets that help you organize your items.
They also have extra pockets where you can keep smaller items. Such a feature allows you to find items whenever you need them conveniently.
The quality of the gym bags is also topnotch. You can rely on them for durability and toughness. It can last for many years even though you use them regularly and constantly pack them all your MMA needs inside.
Unlike the previous brand, the Fairtex Gym Bags is a little bigger than expected. Some people may find the size of the bags an inconvenience.
Also, as large as its capacity is, it may not feel lightweight from one person to another. Thus, using them may be a burden to some, especially during commutes. But overall, the Fairtex Gym Bags receive a positive review and are satisfied with its features.
The design of the Under Armour Duffel is something I personally admire, simple but elegant, with only the large UA logo on its side. Although primarily known in sponsoring major sports like basketball, swimming, tennis, and football, their duffel bag is a definite must-have no matter what sports you're in.
With its spacious main compartment, you can absolutely place all your MMA essentials inside plus other items that you might need. Another great thing about the gear is its dedicated shoe compartment on the side, which makes it easier to access when needed.
The bag itself is lightweight, but will eventually get heavier as you put your stuff in. But overall, this duffel bag is comfortable to use. The Under Armour Duffel Bag is also weather-resistant, which keeps your gears inside perfectly drive.
This brand of bag is receiving a lot of praise for its durability, spacious main compartment, smaller compartment, and weather-proof. I also like the overall aesthetic of the Gold BJJ Randori Bag, which is minimalistic but stylish.
They are also desirable if you're looking for gym bags that are comfortable to carry because it is adaptable and has enough space for all possible training equipment.
The best feature of this bag is its waterproof sweaty gear compartment. It is obvious that clothes and gear will be drenched in sweat at every end of a training session. Having to be able to separate clothes from the clean stuff is an advantage.
You can never really go wrong with this brand of MMA gear. When I hear authentic Hayabusa brands, there is no doubt that I am receiving topnotch and quality MMA gears.
The Hayabusa mesh bag is the ideal blend of form and function. It is spacious, lightweight, and created for optimal ventilation. Your workout equipment stays dry and fresh thanks to the improved airflow.
This bag is made to last thanks to its high-grade metal zippers and tear-resistant mesh construction. It also has reliable smaller pockets, which makes it convenient for you to find items easily.
The same with all Hayabusa products, the qualities that make up this certain bag is what makes it special. Innovation, strength, and durability, it would be a wise investment to purchase this bag.
The Meister Breathable Duffel Bag lives up to its name, they are very breathable. It allows air to flow in and out that keeps those foul odors away as soon as you put your sweaty gears and apparels inside your gym bags.
Normal gym bags keep the smells from your clothing and equipment inside, which is not only unpleasant but also a breeding ground for bacteria. The Meister Chain Mesh bag is airy and lightweight, which keeps your gear and equipment from smelling.
Aside from its breathability, this bag also boasts a spacious compartment in which it allows you to pack as many MMA essentials you need.
Although it is indeed topnotch quality and very durable, the negative note to consider here is that it lacks smaller compartments to help you store and conveniently find smaller items. Nevertheless, it is a good investment considering its durability and how affordable they are.
If you don't feel using duffel bags when going to the gym, then I have one better for you that suits your needs and style. Here is another excellent design by Venum, the Venum Challenger Backpack.
A huge plus for this gear is that although it is primarily functioning as a backpack, you may also convert them into a duffel bag anytime you wish.
The overall aesthetics of the backpack is pleasing to look at. They're very stylish but not overly flashy. The design of the bag is definitely a head-turner, which would make anybody you pass by want to take a second look.
But more than its looks, the built is sturdy, and it offers a high level of comfort to the wearer. It perfectly fits all your MMA needs inside and maybe other essentials. But I think that would just be it.
I think that the only downside of this gear is that it is just right that it might look a little bulky when worn. And it would only fit those you need. If you're thinking of putting other items, it might not compact well.
The Everlast Contender Duffle Bag is very versatile. Aside from being a side carry, you can also use them as a backpack. It is also multi-purpose in the sense that you can use them not only for gym workouts but also for your travels.
This bag can store shoes, wet clothing, and other accessories in the two end compartment. There is also a convenient gloves storage at the side pockets that can be unzipped and clipped back into full mesh side panels.
A notable feature of this duffle bag is the comfort factor. As heavy as it may look, the three handle options and extra-pads in the bottom makes your commute or travels a pleasurable experience. Lastly, main compartment can be expanded by unzipping ventilated mesh.
Final Thoughts
I hope my review of the 10 best gym bags for MMA has helped in determining which brands of MMA gym bags to use for your training.
Whatever brand you choose, you can never go wrong with any of the items listed in this review. They are simply some of the best brands around that's made by reputable manufacturers like Adidas, Everlast, and Venum, just to name a few.
Well, I guess that's just about it! Thank you for taking time off and reading my review of the 10 best gym bags for MMA.